bismIllah...
Semalam pergi pejabat imigresen Manjung (Caw. Lumut actually) cos nak buat passport. Mak and Nini nak ke Indon hujung tahun ni... aku lak kan kekonon nak ke USS kan... buat jela dulu... Razin nyer passport takleh buat lagi cos tak sempat nak amik gambo. Dok mengejar masa cos Nini hantar laptop ke Ayer Tawar punye la lama kat kedai tu. Sampai Mak aku bengang...
Razin nyer passport buat next week insya Allah. Tunggu husbandku balik... senang la sikit.
Semalam naik Vios Mak... punye la seksa cos tak bawak baby carrier! Seksa aku nak mendukung Razin... kalau lepas asyik merayap sana sini risau la jugak kan... pehtu sebelah pejabat imigresen tu rupanya ade Jualan Gudang The Store. Tak penah tahu menahu pun aku... so sementara tunggu passport siap, aku pun angkut la Razin ke situ. Lenguh tangan mendukung and pegang barang-barang yang dirembat cos Mak tunggu je kat pejabat imigresen tu, Nini lak pergi pejabat pendaftaran cos problem ngan IC dia.. maka, aku dan razin jela merayap ke sebelah tu. Dalam kepala otak, kenapa la lupa grab baby carrier aku?? huhu...
Yes, I cannot live without SSC!!
Selalu orang tanya, budak dah 12 kg tu larat lagi ke dukung... dah setahun lebih and leh jalan... well, my answer is YES. Of course boleh dukung lagi. I can front carry too. Better la dukung dari biar lepas lanang mengaco orang, pecahkan barang etc etc. Ade masa memang aku lepaskan... tapi kalau crowded place elok la gendong dalam baby carrier je.
Setakat ni alhamdulillah aku belum kena pakaikan anak ngan 'child harness'. Aku harap takyah la nak berharness2... Tapi kalau situasi memaksa, parents know best la kan...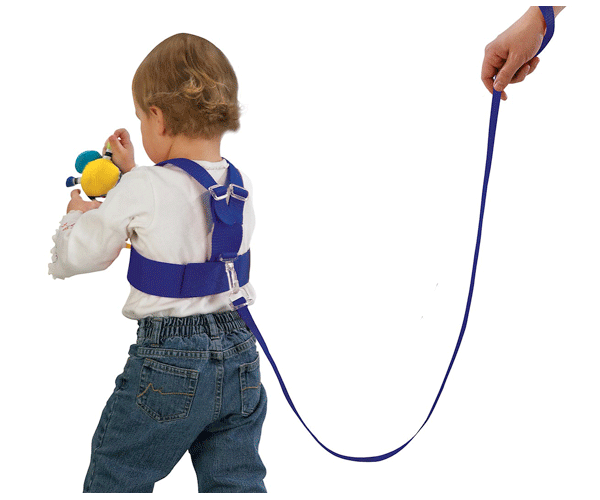 Terpanggil nak blog tentang child harness ni...
Ramai orang kutuk gila mak bapak yang pakaikan benda alah ni pada anak diorang.
well, understandable la cos bagi kita orang Melayu and orang timur ni, udah macam tambat ape plak kan...
Tapi bagi ibu bapa yang dah penah ada pengalaman anak hilang kat supermarket etc, rasenya mungkin bagi diorang ni cara yang diorang kena buat untuk elakkan insiden sama berlaku lagi.
Don't judge selagi belum terjadi pada diri anda.
Selalu yang kutuk beria ni belum ada anak sendiri lagi... tunggu la ade anak... tau la camne...
setiap budak tak sama perangainya..
bersyukurlah kalau anak anda diam dan mendengar kata...
Bagi aku, ya... aku sebolehnye memang rasa takkan guna child harness ni...huhu
But that is because I can carry my baby! Lebih selamat dan stylish. Both mommy/daddy and baby akan lebih selesa... hehe....
So bagi sesiapa yang ada anak tak nak dok dalam stroller tu, you can try babywearing... Tak semestinya pakai baby carrier macam SSC or beg sekolah tu (soft structured carrier), you can try ring sling, wrap or mei tai too.
Banyak lagi carrier yang murah asalkan sesuai dengan anak anda.
Ramai bising kenapa baby carrier yang aku jual mahal sangat? hehehehe...
Ala... tu sebab US brand. Memang harga dia camtu... Ergobaby and Boba is US brand so...memang harga RM400 ke atas. During promo leh dapat less than RM400 tapi kena pandai grab chance la...
That is why aku buka kutu untuk baby carrier... those yang baru beranak or expecting boleh la join... tak lama pun, main 4 orang je...
Ape beza local brand dengan overseas brand? well, kualiti dan material la rasenya. Well known brand ni ade bahagian-bahagian design and R&D dia so that explains the price.
If you would like a cheaper alternative, you can grab baby carrier from Jumpsac, Snuggbaby, Baby Vibes, Neezaneedles and ade lagi brand lain... couldn't remember. Ok jugak. (I've tried Stork by Snuggbaby
here
)
As long as people wear their babies in a decent carrier, I'll be your pompom girl! hehe....
Aku prefer pakai baby carrier yang well known and banyak good review. Costly sikit takpe sebab...?? Well, kalau jual preloved of cos laku cos carrier tu ada 'nama'. Branded stuff always sell eventho preloved asalkan in good condition. hehe... so yeah, that's me. :)
I have nothing against crotch-carrier-type of baby carriers yang cheaper. Ok je as long as you still wear your baby... cumanya, that kind of carrier takleh tahan lama... time baby kecik ok la... bila dah berat and tinggi, tak sesuai... which is why ramai orang ingat budak kalau dah setahun lebih takleh carry, padahal boleh je gendong asalkan you have proper baby carrier.
contoh-contoh crotch carrier
yang Anakku and Tollyjoy tu murah le jugak... tapi Baby Bjorn ni mahal ye...
Boleh je nak pakai tapi bila baby dah besar and berat tak sesuai dah.
So, kalau nak jimat dalam jangka masa lama, kena invest sikit beli baby carrier yang leh pakai dari kecik sampai besar...
Oh, kalau nak tau kenapa Ergo and Boba takleh guna untuk posisi front facing (muka baby ke depan macam gambar pada baby carrier Tollyjoy tu), leh refer sini:
http://www.bobafamily.com/blog/2011/10/11/nine-reasons-not-to-carry-your-baby-facing-out/
*Setiap baby tak sama, so kalau nak front facing pun sebenarnya boleh tapi not recommended for a long time*
Ok, nak citer tentang benda lain dah masuk bab babywearing...
huhu...
Daaaa....
alhamdulIllah...