bismIllah...
Tak sempat update blog about the latest movie I've watched.
It was Les Miserables. A musical film... our kind of movie. Tengok dengan Mamito, Diyana, Nini, Amirul and Razin. Yes, Razin. First time bawak dia masuk cinema.
Nasib baik dia ok... well, at least for the 1st hour. Lepas tu dah cranky and berjalan sana sini. But thank God he didn't cry. Almost cried jela when the lights was out... tapi cepat-cepat peluk and pujuk so dia ok.
He sat between me and Amirul btw. Kami dok couple seat. So since ade Amirul, ok la kan.. makan popcorn and mulut bising itu ini.
Razin tak tengok sampai abis pun cos halfway thru the movie, kakak aku yang jugak menonton wayang kat situ (Aeon Station 18, Ipoh) suruh hantar Razin keluar. Dia nak jaga... dia tengok citer lain ngan kawan dia... So yes, akhirnye dapat lepas gian tengok movie. I was happy! Hehehehe...
God, I love the movie. Sebenarnye masa mula tu aku tak tau pun citer Les Miserables ni citer ape. I left it to Nini untuk decide. Aku tak kisah pun asal tengok wayang.. hahaha. Well, since Nini's taste ngan aku lebih kurang sama bila bab movie and lagu, aku suke la cos the selection was not disappointing!
Cerita ni musical... macam Sweeney Todd (Oh, Helena Bornham was also in Les Miserables!). I love all the songs... I love the movie plot too. Ok, nangis-nangis aku masa part last yang ramai terbunuh in vain kekonon for French Revolution.
Lagu yang menusuk kalbu pada mula cerita adalah lagu 'I Dreamed a dream' by Anne Hathaway. Ok, suara dia sedap gak! I didn't know that. huhu...
Hugh Jackman was awesome too... Ahhh semua best la. I love love love the movie!
Tak rugi tengok. Siyes.

Anne Hathaway masa nyanyi lagu yang meng'goosebumps'kan aku...
I feel you, Fantine! Oh... suke gile masa part dia nyanyi ni...
Btw, I found out that these actors sang LIVE and terus difilemkan. So, memang real la lakonan and nyanyian tu... best ah... err.. kecuali Russell Crowe punyer singing. Macam tak berapa real and dubbing je. huahua...
Eddie Redmayne as Marius in the film was amazing.
Love the voice and face.
Him singing 'Empty chairs at empty tables' made me cry like crazy.

T____T
Sedih gilaaa... Waaa...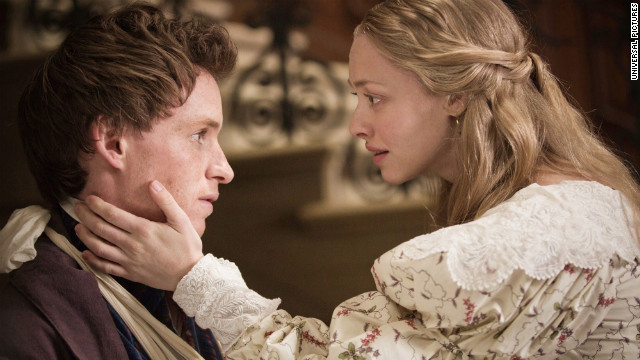 Amanda Seyfried (as Cosette) trying to calm Marius yang kesedihan cos dia je terselamat dan sempat diselamatkan oleh Hugh Jackman...
Amanda Seyfried macam tak best sangat cos tak banyak part singing and macam tak power je kalau nyanyi... tah la... aku lebih suka part Samantha Barks jadi Eponine lagi. Suara power ohhh!
Oh well... enought ranting about the film.
Tak sume suka musical film... but I do. Hehehe...
Sesi mendownload soundtracks menyusul. :D
alhamdulIllah...